Rhynard's Blueberry Farm was started back in 1961 by Lyle and Pat Rhynard. They owned and operated the patch until 1986. Their son Ron and his wife Kenna took over ownership in 1987 and are presently operating it. There have been two additions to the original 1-1/4 acres planted in 1961. In 1995, 3/4 of an acre was added and another acre was planted in the fall of 2006, which makes the patch a total of 3 acres.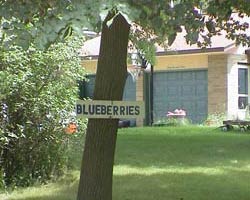 The two acre patch contains several different types of blueberry plants. These include blue crop, blue ray, early blue and duke. While all produce similar types of blueberries, there are a few minor differences. Some varieties produce smaller blueberries, some produce blueberries earlier than others and some produce blueberries with a slightly different taste.
We offer two different ways to buy our blueberries. You can either come out and pick them yourself, or you can buy ones that are already picked. We try to keep some already picked blueberries on hand, but it's always best to call ahead. The blueberries are sold by the pound and the prices are different depending on which method you choose. You can check out the blueberry prices on the pricing page.
In addition to blueberries, we also sell honey. The honey comes from the bees that we have to pollinate the blueberries. You can check out the honey prices on the pricing page.